WHO we are
"Only when we face the impossible, and experience the unbearable, do we find out who we truly are."
― Vironika Tugaleva

How we came to be ...
Legal Form
100% Citizen-owned, private limited company registered on 1 August 2014 under the Companies and Intellectual Property Act. The company registration number is BW00001741060. It was previously registered as Pay Tax Consult (Pty) Ltd

Where we are going...
Vision
A leader in business improvement through Finance Transformation
Mission
To provide agile and pragmatic business solutions for SMEs, Not-for-Profit Organisations and Youths, yet scalable for application in large corporates
What is important to us...
Values
Adaptability

Agility
Collaboration

Integrity
Practicality

Founding Member
Obonye Marage, FCCA, FCPA
The firm is led by its founding member, Mr Obonye Marage, a highly experienced finance executive who is a Fellow Chartered Professional Chartered Accountant (FCPA), Fellow Chartered Certified Accountant (FCCA), with strong strategic leadership which spans over 20 years experience at; Deloitte (a global Big 4 Accounting firm), businesses in mining, mining and minerals investment and energy regulation.
Marage has led multi-million-pula projects in implementation of business systems integrations, including Enterprise Resource Planning (ERP) implementation. He has played integral role in business process re-engineering in a mining environment (applying six-sigma methodology in business improvement). He has experience in Audit, Accounting and Finance with key performance areas such as Financial Management & Reporting, Treasury, Risk Management, Project Management, Business Strategy Development and Corporate Governance amongst others.
Through his leadership roles in mining he has contributed to driving corporate performance and has been instrumental in people development as well as team development. He has demonstrated outstanding interpersonal skills and technical skills in financial management and control at different organizations, including accounting, budgeting & forecasting, financial reporting, planning & analysis and financial policy development.
The Business Model
How we deliver agile and pragmatic solutions!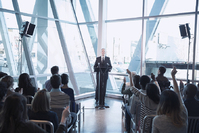 BCC brand promise is premised on best in class expertise, which is the reason for adopting a consultants contracting model. Our consultants are contracted to be on call for engagements on a needs basis. These are highly experienced, competent and reliable professionals who have been recruited through a rigorous process to ensure we only get the cream of the crop who would rise to the occasion and dedicate the amount of time required for each assignment.
To ensure business continuity, these consultants have understudies enlisted through our internship and mentorship programmes.
To ensure the consultants are available on call, they are engaged with competitive sign-on and retainer package.